The hybrid laser and LED light sources make EinScan HX compatible with a wider range of object sizes, meeting multiple needs of users. High efficiency and reliable result give EinScan HX more application possibilities.
Hybrid Blue Laser & LED Light
Innovatively integrated with dual blue LED light and blue laser, improves scanning materials adaptability with less limitation for a wider range of applications. LED light scanning allows rapid 3D scanning. Laser scanning, which is less sensitive to ambient light, gives better performance to reflective and dark color surface.
Reliable Results
The high resolution and accuracy meet the needs of most industrial applications for reverse engineering and measuring.
Minimum point distance 0.05 mm
Accuracy up to 0.04 mm under Laser Scan
High Efficiency
Processing speed of EinScan HX under Rapid Scan Mode is up to 1,200,000 points/s, and multiple blue laser lines under Laser Scan Mode makes scanning of most objects in minutes for reverse engineering, CAD/CAM, 3D printing and etc.
Full Color
With built-in color camera, it supports full color texture capturing and tracking by texture.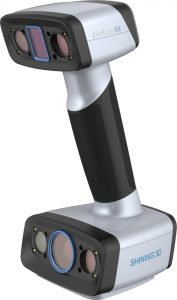 Scan Mode

Rapid Scan

Laser Scan

Scan Accuracy

Up to 0.05mm

Up to 0.04mm

Volumetric Accuracy

0.05+0.1mm/m

0.04+0.06mm/m

Scan Speed

1,200,000 points/s
20FPS

480,000 points/s

55FPS

Camera Frame Rate

55FPS

55FPS

Align Mode

Feature Alignment、Markers Alignment、Texture Alignment、Hybrid Alignment

Markers Alignment

Working Distance

470mm

470mm

Depth of Field

200mm-700mm

350mm-610mm

Max FOV

420mm*440mm

380mm*400mm

Point Distance

0.25mm-3mm

0.05mm-3mm

Light Source

Blue LED

7 Blue Laser Crosses