Each Form 3L large format Low Force Stereolithography (LFS)™ 3D printer includes the essential tools required to start printing and a one-year warranty.
The Formlabs Form 3L is a cost-effective SLA 3D printer with a large print build capacity of 335mm x 200mm x 300mm. The Form 3L uses the Low Force Stereolithography (LFS) printing process to produce large industrial-quality parts.
The build volume of the Form 3L is 5 times larger than the Form 3 and combined with two custom-designed Light Processing Units (LPUs), two lasers simultaneously build large parts, making the Form 3L ideal for large prototypes, models, props, moulds and manufacturing aids, or higher throughput of smaller models.
The Form 3L includes a Finish Kit with a Rinse Bucket and a set of Cleaning Tools to help keep your workspace clean and organized while putting the finishing touches on your large format 3D printed parts.
Scale up your in-house print production operation with the Form 3L to take control of large-scale part production, increase your throughput, and bring your biggest ideas to life.
What's Included
Form 3L 3D Printer
Form 3L Resin Tank
Form 3L Build Platform
Form 3L Finish Kit : Cleaning Tools
Form 3L Finish Kit : Rinse Bucket V1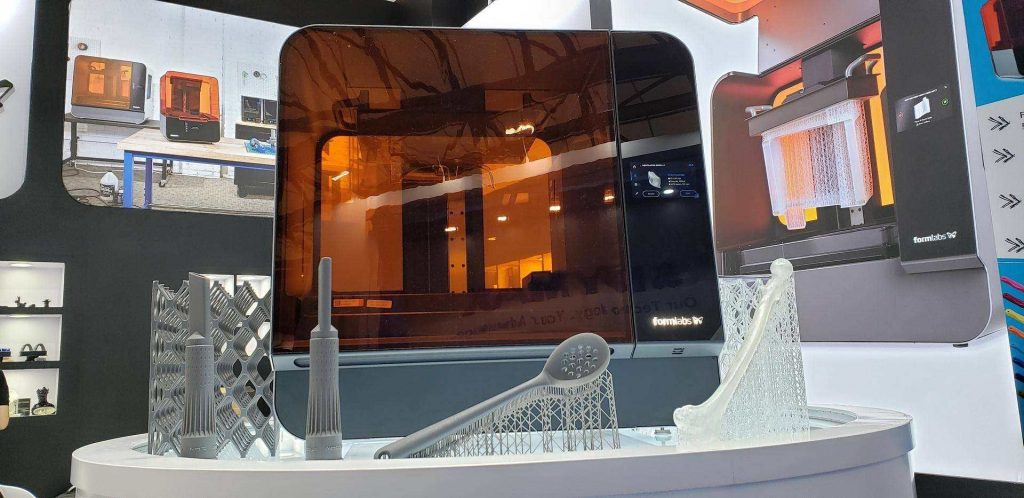 Printing Technology: Low Force Stereolithography (LFS)
Laser: Light Processing Unit (LPU), 250 mW405 nm
Build Volume: 145 x 145 x 185 mm
Z-Layer Resolution: 25 – 300 microns
XY Resolution: 25 microns
UI: 5.5-inch touchscreen
Connectivity: WiFi, Ethernet, USB
Build Platform Leveling: Automatic
Materials: Formlabs resin cartridges