3D layers
Zortrax M300 Dual
Zortrax M300 Dual – Industrial 3D printing quality on your desktop
Are you a professional and have high demands on quality and performance of your 3D printer? Then the Zortrax M300 Dual is perfect for you. Experience industrial 3D printing quality at a fair price – and on your desk. 3D print two materials thanks to the extruder with double hot-end and two separate nozzles.
Key features – Zortrax M300 Dual:
3D print without raft – Use water-soluble support material instead
265x265x300 mm building volume is suitable for most applications
Wi-Fi, USB and Ethernet for reliable connectivity
Power failure protection via capacitor for continuous 3D printing
Automatic calibration of the construction platform thanks to built-in capacitive distance sensor
Additional features of the Zortrax M300 Dual:
This 3D printer uses the Zortrax LPD Plus Dual Extrusion technology
Compatible with various build platforms (perforated, glass & other construction platforms)
3D print with one or both extruders filament & support material
Work with third-party filaments
Built-in camera for remote monitoring
Large construction volume for 3D printing of powerful components
Thanks to the large construction volume of 265x265x300 mm, you can create 3D prints of large components easily and in high quality. 3D print even your large masterpieces in one piece.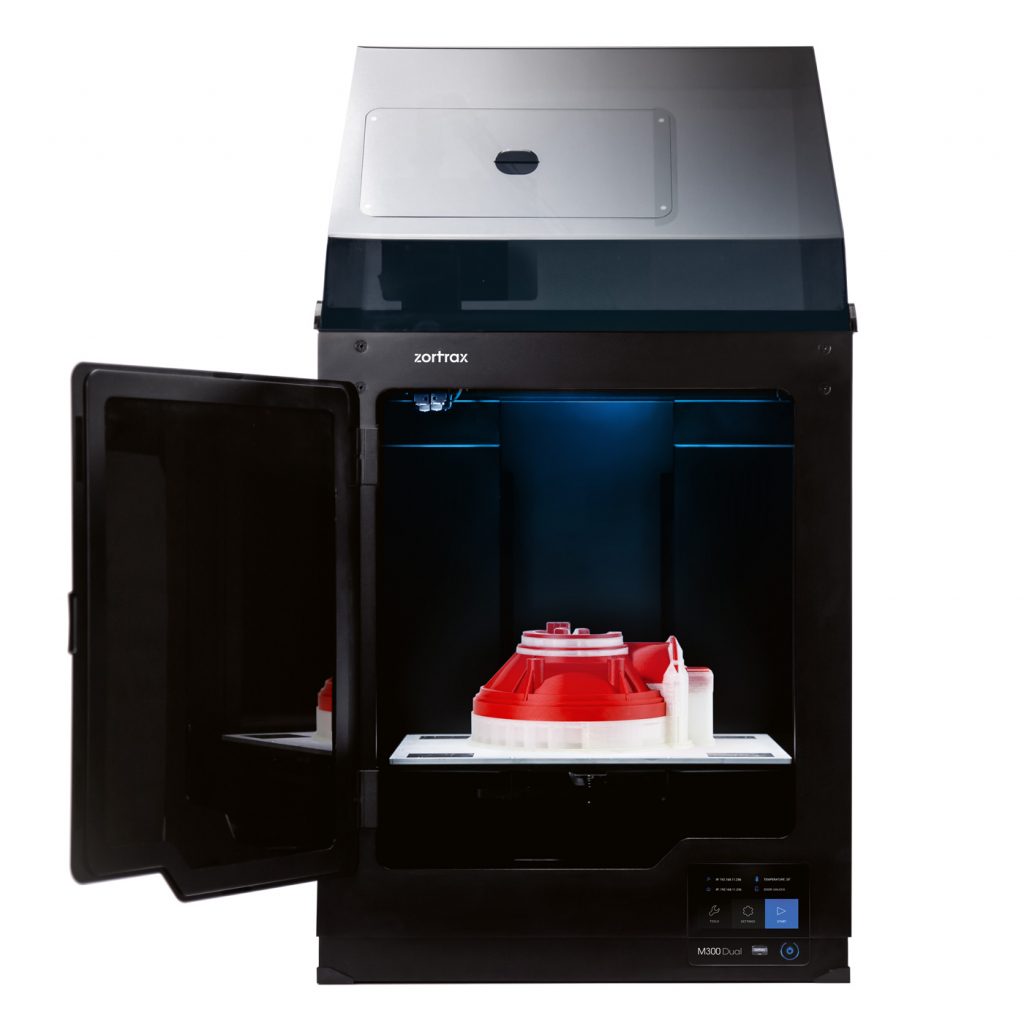 | | |
| --- | --- |
| Build volume | 265 x 265 x 300 mm (10.4 x 10.4 x 11.8 in) |
| Nozzle diameter | 0.4 (0.016 in) |
| Extruder | Dual material extruder with material jam detection |
| Extruder cooling system | Two fans cooling the extruder, radial fan cooling the print |
| Hotend | Dual material hotend |
| Platform | Heated, perforated and glass plates are applicable |
| Technology | LPD Plus (Layer Plastic Deposition Plus) - advanced technology with the system of Dissolvable Support Structures |
| Layer resolution | 150-300 microns (for 0.4 mm/0.016 in nozzle) |
| Minimal wall thickness | 450 microns (for 0.4 mm/0.016 in nozzle) |
| Platform leveling | Automatic measurement of platform points height/Manual measurement of platform points height |
| Maximum printing temperature (extruder) | 310° C (590° F) |
| Maximum platform temperature | 105° C (221° F) |